<gallery source="template?" mode="slider" type="slider"> Magic-Yacht'in-Conbined.jpg|Season 5 Part 2|link=Season 5|linktext=Young & Magic & Young & Yacht'in both premiere on July 25th! Don't miss the finale! Mexico5.png|Jabi|link=Jabi|linktext= Do you ship Josh and Gabi? Young & Hungry Logo.png|Young & Hungry|link=Young & Hungry|linktext= Find out about the show! Young & Hungry Season 5 Group Promotional.jpg|Cancelled by Freeform!|link=Young & Hungry|linktext=Young & Hungry is ending after season 5, no season 6!
Welcome to the official Young & Hungry Wiki, a collaborative encyclopedia for everything and anything related to Young & Hungry! There are 352 articles and we are still growing since this wiki was founded. The wiki format allows anyone to create or edit any article, so we can all work together to create a comprehensive database for the Young & Hungry franchise.
<createbox> width=24 break=no buttonlabel=Create new article </createbox>

The series follows wealthy young tech entrepreneur Josh (Jonathan Sadowski), who hires a feisty young food blogger named Gabi (Emily Osment) to be his new personal chef. Desperate to keep her new job, Gabi must prove her skills to Josh and his personal aide Elliot (Rex Lee) of whom would prefer a celebrity chef for the job instead.
---
Click here to read about more characters!
---

Previously

Young & Bullseye

Wanting their boyfriends to become friends, Gabi and Sofia organize a double date. But when the guys don't hit it off, their conflict spreads to Gabi and Sofia. Meanwhile, Yolanda meets a handsome doctor when he confuses her with his online date. But needing help to keep up the ruse, Yolanda enlists Elliot and Alan as coaches.


Young & Motorcycle Gabi is excited when she inherits a motorcycle, remembering how she used to ride one all the time. But when she shows off her new bike to Josh, his reaction is not what she expected. With things with her new boyfriend going well, Sofia is nervous about taking the next step in their relationship, especially when all of their plans seem to go awry.

Next

Young & Magic

Josh decides to finally reveal a deep secret to Gabi – he's a magician. While initially supportive, Gabi becomes frustrated when Josh's magic takes over their lives. Sofia is terrified to introduce her stern grandmother to her boyfriend. Meanwhile, Yolanda's pen pal is being released from prison, and wants to meet in person.


Young & Yacht'in In the series finale, Josh takes the gang for a getaway on his new yacht, where Gabi hits it off with the yacht's chef (Alex Guarnaschelli – playing herself). When Alex offers Gabi an amazing opportunity, it ruins Josh's plans. Meanwhile, Sofia has a terrible misunderstanding about her boyfriend and Elliot and Alan meet a flirty steward.
---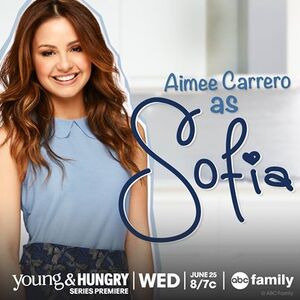 Sofia Rodriguez
She is an ambitious banking intern, who lives with Gabi and they share their apartment.
To learn more about Sofia Rodriguez click here.

Latest Blog Posts
Asnow89
•
Does your mouth water during every episode of Young & Hungry? Not to fear! We have the ultimate Youn…
Check out this awesome interview with Kylie Hodges and Gabi Moskowitz (the chef whose life is the i…
See more >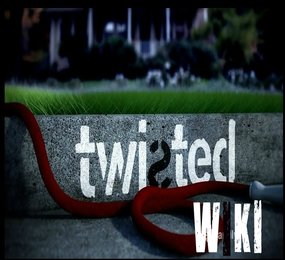 Refresh for another recommendation